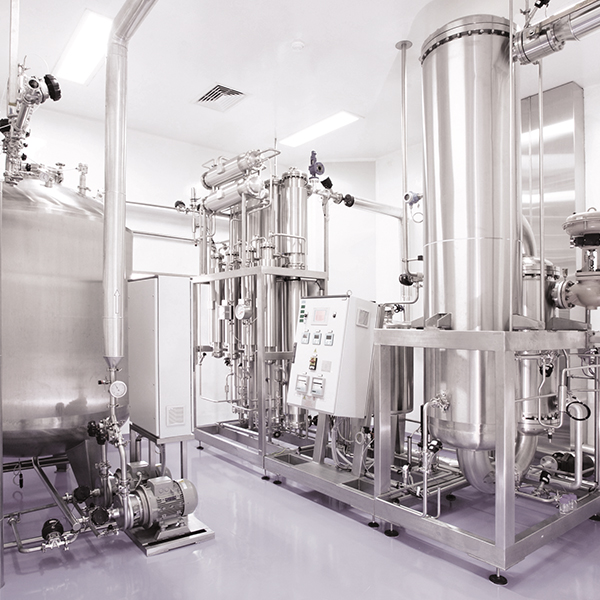 PHARMA & BIO TECH
Meca-Inox, a leader in ball valves, has developed a range for the pharmaceutical, fine chemicals from packaging to finished products.
Our 2-piece ball valves and 3-piece ball valves, manual or actuated, are used on many fluids (alcohol, acids, solvents, …) involved in the process of developing active ingredients. They are found in pharmaceutical workshops on "clean utilities" (purified water, steam clean, filtered air, thermal fluids…)
In fine chemical Meca-Inox offers solutions:
:: Corrosion caused by chlorinated acids, sulfuric acids or nitric acid, is neutralized through the use of valves in exotic materials.
:: Quality control of products during their development is facilitated and secure by the use of sampling valve.
:: The control of temperature, pressure, pH, levels, is achieved by gradual adjustment of the flow control valve with its opening of V-ball.
In technical rooms or clean rooms:
:: The clean lines of utility requirements for use of sanitary valves with controlled surface condition for welding and orbital.
:: The installation of valves on the pipes with small diameters is facilitated by the use of compression fitting valves.
:: The resistance to thermal shock during heating periods and cooling is provided by the thermal oils valve.
:: Stagnant viscous coating agents is limited by the use of valves with
cavity filters.
Sectors
Reactors, clean fluids, sampling and injection units.

Specifications
USP CLASS VI & FDA SEATS
1.4435 LOW FERRITE BALL & ENDS
FULL TRACEABILITY OF COMPONENTS
ALLOY 22 VALVES